Our mission? Bringing to market new business

solutions for environmental and social problems that

are…

Sustainable. Equitable. Profitable.
We are a mission driven, private sector business channel for delivering to market valued products and services and exchanging resources, talent and capital. Our role is to capitalize on business opportunities on the cutting edge of our emerging new economy and connect them to businesses that will be agents for change.
The products and services we have developed to support this process are designed to unlock the value of great ideas. We do so by developing innovative products and serves for our own account, transformative business solutions for our clients and catalytic collaborations with our partners.
INNOVATIONS
We believe in leading by example, so NISE! has initiated the development and implementation of its own innovative products and services. Our focus has been on developing NISE! INNOVATIONS in the areas of energy conservation and finance. Our three initiatives are:
Unlocking the Value of Conservation for Consumers

Addressing the Human Factor in Energy Conservation

Creating New Impact Investment Instruments

SOLUTIONS
For businesses that want sustainable, equitable and profitable business solutions, we offer four consulting practices that can be a catalyst for their development. Our NISE! SOLUTIONS cover a wide range of issues and challenges confronted by businesses whether they are early stage or mature. Our four practices are:
Innovating Business Opportunities

Transitioning Control, Ownership and Governance

Engaging Disparate Stakeholders

Investing for Impact
COLLABORATIONS
We believe that achieving our mission depends on working with others of a like mind to accelerate the rate at which sustainable businesses grow and prosper. We also believe that accelerating this process will require re-thinking leadership models, realigning networks to be more mutually supportive and developing new platforms that facilitate and leverage collaborative efforts. So we are actively seeking NISE! COLLABORATIONS with businesses, academia and government in three areas:
Enhancing Leadership

Connecting Networks

Leveraging Platforms
"We unlock

the value

of great ideas."
Let us be NISE! to you. Our experience at re-imagining businesses can serve you too. Here's how:
---
NISE! for Business
If you are a business - small or large - that has developed part of the solution to a business problem, but need help putting together the other parts, NISE! can advise you on how to do so and assist you in implementing the new solution.
---
NISE! for Government
If you are government agency that is responsible for implementing policy and need a partner to help initiate or implement private sector activity that supports it, NISE! can be the catalyst you want.
---
NISE! for New Ideas
If you are in need of new ideas — as a business or a government agency — NISE! can brain-storm with you or develop a complete strategic plan that will jump-start a new business or policy initiative.
---
To learn more, contact:
Edward Dugger III, President
eduggeriii@usnise.com

| | |
| --- | --- |
| | To make your business more SUSTAINABLE. |
---
| | |
| --- | --- |
| | To make your organization more EQUITABLE. |
---
| | |
| --- | --- |
| | To make your enterprise more PROFITABLE. |

Our world economy is changing rapidly.

Businesses will need to change with it.
But how? Where are the new opportunities for growth and prosperity in our changing economy? NISE! believes that on the cutting edge of the new 21st century economy there will be great business opportunities in addressing needs or solving problems arising from the values and rules we use to produce, price and sell goods and services in our current 20th century economy. The source of the opportunities will be increasing conflicts between the values of the old economy and two life forces with which they continuously interact:
Human Life and Standard of Living


Building and maintaining safe and healthy environments for families and communities is among our nations's highest priorities. Yet, increasingly the values driving our business practices threaten the safety, health or well-being of families and communities. These conflicts raise issues of

economic justice — what is fair, who should bear what costs and who should profit.

Ecological Life


Maintaining a balance between organisms in the natural world and their surroundings is crucial for the health of our planet and human life as well. However, the rapid encroachment on the natural habitats by our dominant 20th century business practices threatens to drastically alter or destroy this balance. These conflicts raise issues of

ecological justice — again what is fair to other forms of life and the habitats that sustain them.
These two conflicts arising from 20th century business practices and the harm they inflict on humanity and the eco-system are demanding our attention and solutions — solutions that are equitable from the perspective of their impact on human and social life, and balanced from the perspective of ecological life. The demand for these solutions represents enormous business opportunities that will be drivers for our emerging 21st century economy.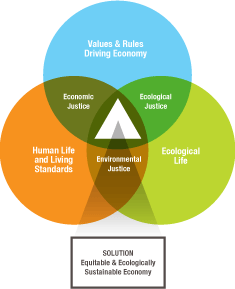 Thank You For Joining the Conversation!
For those of you who attended the NISE! 21st Century Economy Business Summit, we are delighted that you were able to share your time with a remarkable assembly of speakers and conversation leaders who represent the cutting edge of sustainable businesses large and small, as well as experts from the impact investing world engaged in institutional management of capital and direct investing.
We were also pleased that you were there to help us celebrate and honor Gary Hirshberg, CEO of Stonyfield Farm, for the life time leadership he has shown in creating pathways to a sustainable future, by making him the recipient of the NISE! Innovation Award.
Let's keep the conversation going. If you are not already, become an active conversation leader about sustainability with your business associates, clients, friends and family. We look forward to continuing the conversation we started with you at the Summit as well.
One conversation at a time.
Many conversations over time.
Extraordinary change in our time.


See Summit Program: NISESummitProgram111022.pdf
NISE!
21st Century Economy Business Summit
Federal Reserve Bank of Boston
Learn how companies large and small are re-inventing themselves to make sustainable business practices part of their corporate DNA to increase their competitiveness and obtain a triple bottom line measured in profitability, social equity and environmental sustainability.
Summit Agenda
Welcome Ceremony



JD Chesloff, Executive Director, Massachusetts Business Roundtable
Andy Tarsy, President, Progressive Business Leader Network



Panel Perspective 1

What Business Models are Contributing
to a Sustainable 21st Century Economy?
A discussion with business executives in the forefront of creating new business methods, relationships and rules that support a triple bottom line: profitability, social equity and ecological sustainability. The purpose of the discussion is to provide the audience with new insights into the values, priorities, and strategies of businesses pursuing sustainability that are achieving the scope, scale and success required to drive change.

Conversation Leaders:

Gary Hirshberg, CEO, Stonyfield Farm, Inc.
Carolyn Kaplan, Chief Sustainability Officer, Nixon Peabody; Moderator
Laury Hammel, CEO, The Longfellow Clubs
Tim Healy, CEO, EnerNOC



Panel Perspective 2

The Role of Impact Investing in a Sustainable Economy:
The Business Case
Learn about innovative investment practices that consider environmental, social and corporate governance criteria to generate long-term competitive financial returns and positive societal impact. A panel discussion on how market participants can best position themselves for a strong financial performance in a new market environment. Benefit from practical guidance, expertise and successful showcases from leading edge financial and business leaders.

Conversation Leaders:

Georgette Wong, CEO, Take Action! Impact Investing; Moderator
Joyce Haboucha, Managing Director, Rockefeller & Co.
John LaPann, President & Chief Investment Officer, Federal Street Advisors
DeWitt Jones, Executive Vice President, Boston Community Capital



NISE! Award Ceremony

Gary Hirshberg, CEO of Stonyfield Farms, was honored with an NISE! Award for his outstanding commitment to creating an equitable and ecologically sustainable economy by advancing Sustainability, Corporate Responsibility and/or Diversity into their business model.

Closing Ceremony



Tedd Saunders, President, EcoLogical Solutions;
CSO, The Saunders Hotel Group